Navigation 2: Ebony Secombe, Navigating fear through empathy

Opening 13 July Friday 6 – 8pm
Open 14 - 29 July
Artist Statement
My practice explores the social, political and economic implications of urban development and renewal, Navigating fear through empathy hones in on what it means to exist in space and the many underlying fears that are implicit in our every day lives. We navigate our daily experiences of the world in accordance to various intersections of marginalisation and privilege. How we move through space is inseparable from our identities, the political is personal.
The installation and sculpture within this exhibition expresses these fears indirectly, through materiality, process and abstraction. While the works speak to a sense of fear, anxiety and trepidation my presence as a performing artist aims to counter this with an offering of empathy, whimsy and humour. Throughout the duration on the exhibition I will be performing in irregular intervals, interacting with the installation intuitively and presenting myself as a silent listening ear, while seated on the hand crafted hazard tape ottoman.
I provide no counsel, no expertise but sit silently and willingly, awaiting the presence of an audience member. I will sit with you in this moment, I will listen to you speak of your fears.
Documentation by Molly Wagner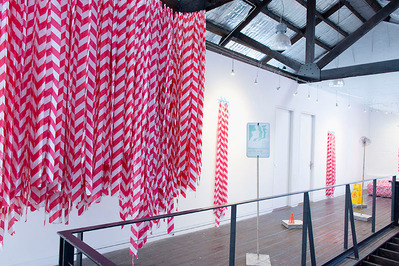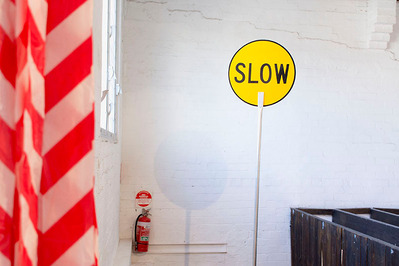 Ebony Secombe Navigating Fear Through Empathy
By Angela Garrick

As we enter out into and traverse through public space, we consider notions of safety and recognition to ensure our onward journey. Visual indicators help us negotiate these spaces and we often encounter turns in the road, or objects that we do not recognize. These moments are ingrained as judgements within the everyday fabric of life. The psycho-geographical literacy of city dwellers within urban spaces is somewhat inherent - having become an almost unconscious interaction where people cease to really observe the minor changes in their landscape.

Enacting small suggestions into the nature of space through sculptural works and performative interactions, Western Sydney based artist Ebony Secombe looks at the inter-relational aspects of private self within public space and how these complex and evolving parameters are negotiated.
Secombe works through reframing. As an artist her task is to reveal aspects of the urban landscape that we may not usually recognise. Through this careful act of revealing, she seeks to contextualise her viewer as active and aware participant in an ever-changing environment. Eschewing echoes of Gordon Matta-Clark's Garbage Wall (1970), the untitled sculptural works present in Navigating Fear Through Empathy waver between what you might see at a construction site or at roadworks and something stranger, something abject and slightly off kilter.
Secombe actively deconstructs how we interpret our surroundings as 'safe', reframing signage and safety symbols to articulate something more innate, more complex. At the forefront of these physical remnants is the symbolic negotiation of a woman within public space, and the act of personal judgement and care that goes into daily movements and ritualistic travels. Secombe's point is that while visual indicators of safety, danger and repair can be helpful in personal navigations, for some this ambulatory awareness initiated by danger signage confronts them everywhere they go - be it from the simple case of being a woman, being queer, being a person of colour, or trying to live through and beyond trauma and fear.
Secombe's architectural deconstructions work with an aesthetic that could signify danger, precariousness, or something unfinished. However, there is a curiousness to her pieces, that challenges the viewer's notions of what construction and deconstruction is. Objects such as an Ottoman woven with safety tape have a certain playfulness and inherent humour to them that also looks at the way we discern and deduce the intended usage of everyday objects through visual signifiers that work outside language.
A complementary aspect to Secombe's sculptures involves her active performance work around and within them. A new, untitled performance work will see the artist situated in the gallery space and listening to participants talking about their fears. Presented as an intermittent performance throughout the exhibition, the artist has stated that there will be no documentation of this event - rather, that it will be an intimate transient encounter between audience participant and artist. This choice could be seen as a source of consternation for the curious observer, but the show is revelatory in its aim to present fear and the duty of its care at the forefront. What is meant to be public will be public - and everything else will remain private. Akin to Lee Lozano's performance pieces such as 'Dropout Piece' (1972) or, 'Dialogue Piece' (1969) where only text declaring the work remains, this theory of constraints is indeed all that is needed here, as the artist's true listening ear is intended for the participant only.
Secombe has a history of using her physical pieces to frame small movements and performance works, with the impermanence of the performance transfers as a juxtaposition of the stark aesthetics of her sculptural pieces. Never theatrical or situated within a planned audience, these works are more sensual or therapeutic, driven by instinct and the function of art as healing process or a way of remapping past events within a new conceptual framework and thus, a new memory. Secombe uses art as an enactor of healing - and to relate the duty of care and empathy to those who may not place attention on that fact. Using almost guerrilla tactics to reveal the inherent visual signifiers imbued within the fabric of everyday life, Navigating Fear Through Empathy reclaims aesthetics of danger and safety as a method to instate emotional awareness and revelation.
Angela Garrick is an Australian artist and musician. Her practice examines notions of spatial awareness, performance, collaboration, geographic phenomena and the nature of memory. For more information visit www.angelagarrick.com