In 2019 Nadia Odlum was commissioned by Parramatta Council and Parramatta Artists' Studios to create new work for the street festival 'Parramatta Lanes'. The work 'Our intertwining lives' took the form of street banners distributed throughout the festival site, and a site specific performance in a laneway by the Parramatta River.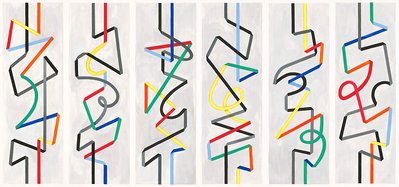 Our Intertwining Lives, 2019, site specific performance for two council workers and two line marking machines, 60 x 8 m, Dirrabarri Lane
Two workers receive council work orders to paint lines in a laneway using line marking machines. Rather than relating to standard unit of measurement, the instructions in the work order call upon each worker to investigate their own subjective choices and perceptions of space. Once the two workers have met in the middle of the lane they are tasked with carefully replicating each other's lines, thus embodying the perceptual choices of the other.
This work was commissioned by Parramatta Artists Studios for Parramatta Lanes festival 2019
Performers: Marian Abboud and Bruno Panucci
This performance occurred on the land of the Burramattagal people of the Darug nation. We acknowledge that sovereignty has not been ceded and pay respect to Elders past, present and emerging.